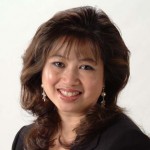 Attorney Sandra Vu Le is the Chief Confidence Builder of Your Cultural Edge, a business helping minorities and foreign born graduate students and professionals leverage their cultural strengths and effectively communicate in the U.S. culture for personal and professional success.
As a Vietnamese immigrant to the United States, Sandra intentionally harnessed the strengths of the Asian and American cultures to find her cultural edge: becoming the U.S. Senate Youth Ambassador to Japan at age 16, a successful 14 year entrepreneur as a family and immigration attorney with hundreds of multicultural clients, and the first female Vietnamese American in Texas to run for a state congressional seat.
As a former co-host on Saigon Television Broadcasting Network (STBN)-Dallas and in-demand speaker at universities, conferences, and governmental agencies, Sandra has shared her inspiring story and knowledge with thousands of people around the world. She has appeared on National Public Radio (NPR), Dallas Morning News, and ABC's affiliate WFAA Channel 8, and NBC's DFW Channel 5.
Sandra holds a Business Administration Degree from Washington University in St. Louis and a Law Degree from Southern Methodist University in Dallas. She currently resides in Maryland with her husband and three children.